AG School of Golf
Welcome to the AG School of golf, we are here to help you improve your game, whether you are a complete beginner or an experience golfer we have a teaching program in place to help every aspect of your game.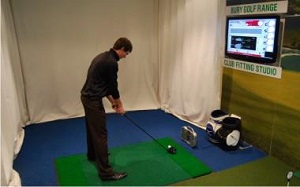 Our video swing analysis room can record your golf swing. These moving images are then downloaded onto the computer. A normal swing will be broken down into 60 separate images, allowing the professional to analyse all aspects of your swing and highlight areas for improvement. The system provides a clear and precise image in slow motion, pause or at normal speed. We can calculate your degree of wrist bend, club-head speed, angle of attack into impact, and even plot your swing plane on the back swing compared to the downswing.
Additionally, there is a professional swing library, featuring some of the world's best players, including the phenomenal Tiger Woods. This feature enables the professional to place you on the screen side by side with a professional of similar rhythm - and contrast the differences. Actually seeing yourself striking the ball in slow motion helps you to understand the mechanics of your golf swing!